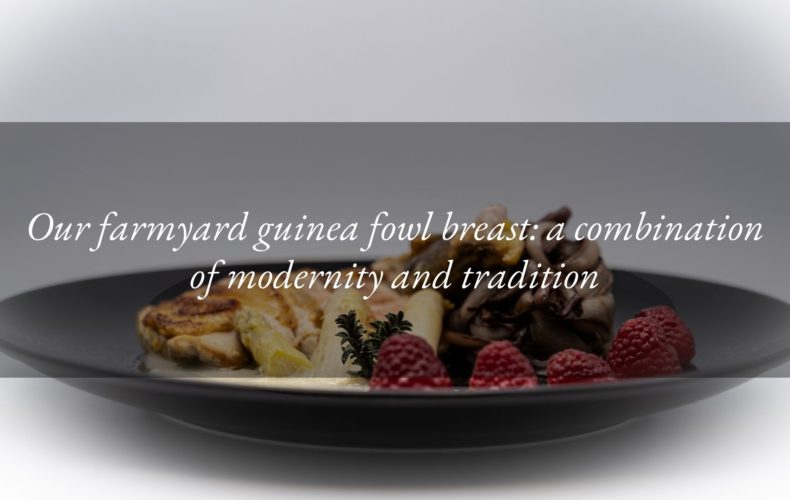 Recipe of the month: Farmyard guinea fowl breast on asparagus and radicchio cream
Posted by

4 March 2022
The combination that delights the palate is often the one that surprises with an unexpected  balance between modernity and tradition.  Among the Hotel Tritone dishes that certainly fulfill this function is the breast of guinea fowl with asparagus, radicchio and raspberries. 
Venetian recipes: from the countryside "farmyard" to mountain trails
Farmyard animals are part of the culinary culture of Northeast Italy. Created by the chef at our hotel, this guinea fowl dish is accompanied by two excellent Venetian vegetables:  asparagus  and  radicchio. 
Modernity, on the other hand, is represented by the freshness and sourness of the  raspberry,  a less typical fruit on the plains but still found in abundance in the Venetian Pre-Alps.
Wine of the Hills, to close the circle
The dish, which we could define as "geographically relevant," deserves an accompaniment worthy of this link with the territory. So our sommelier Mirco selected a wine from the Euganean Hills: the  Carmenere Riserva 2018 from the Vignalta  winery.
Accordingly, another  pinch of modernity  is revealed in this recipe;   the white meats of farmyard animals are usually accompanied by white wines. In this case, however, the aromaticity of the guinea fowl meat goes perfectly with the softness of this red Carmenere with strong aromas.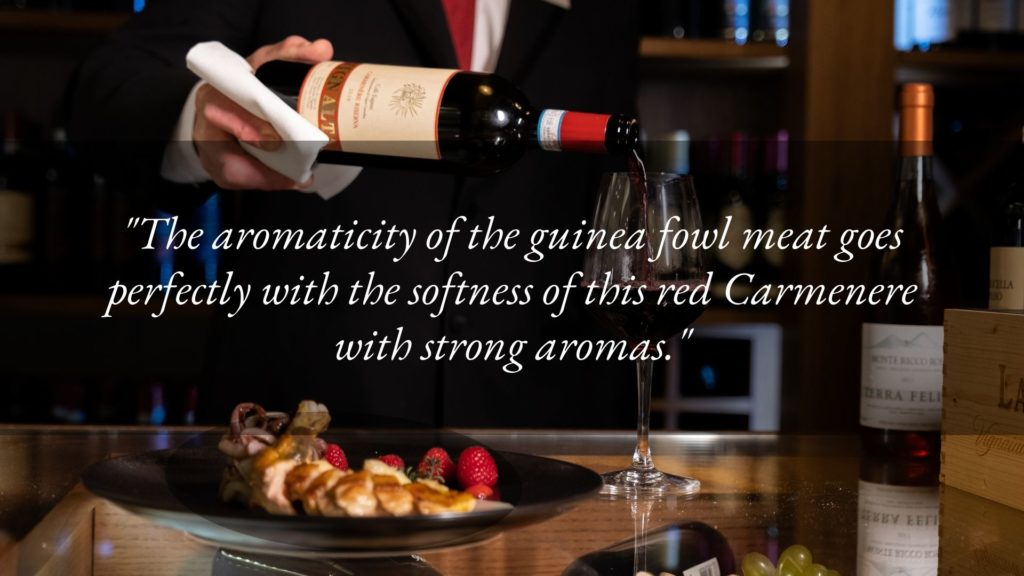 Fermentation in French oak tonneaux smoothes the tannins, or rather, the sharpness of the wine. In this way, the ample   fragrance of black currant, and an obsolete harmony, are obtained.
 Vignalta   is a winery inspired by French knowledge. For 40 years it has produced increasingly high-quality wine through its vineyard and its winemaking techniques. 
Farmyard guinea fowl breast on a cream of white Bassano asparagus and radicchio with raspberry vinegar.
Ingredients
1 guinea fowl breast
4 white asparagus
1 late-growing Treviso radicchio
1 shallot
50 gr of butter
Vegetable broth to taste
1 pack of raspberries
250 ml of white vinegar
Black pepper berries to taste
White wine to taste
Rosemary, sage and thyme to taste
25 gr of salt
25 gr of sugar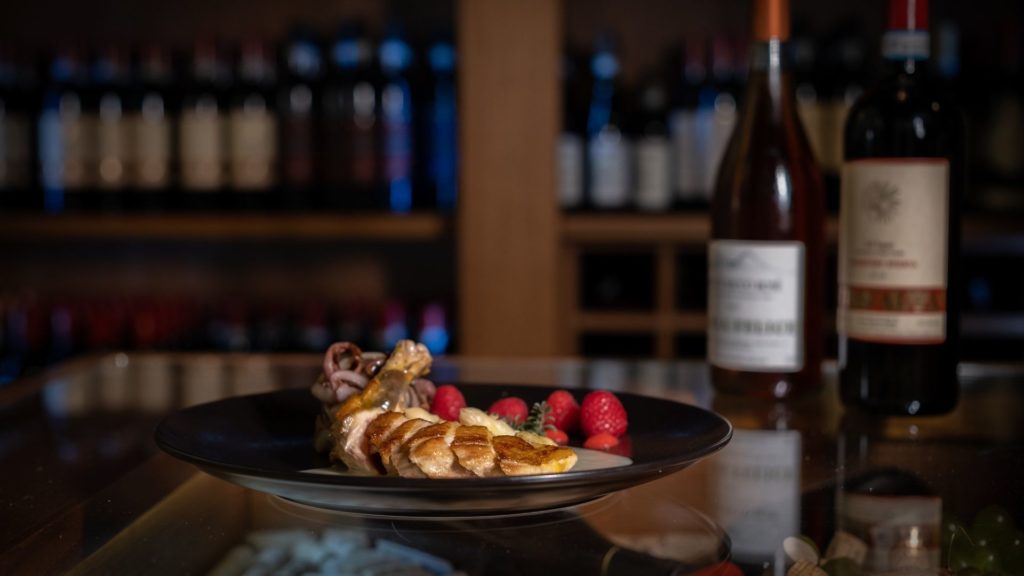 Preparation
Peel the asparagus and cut them into small pieces keeping the tips whole. Put them to cook in a pan in which the shallot was browned in butter. Add vegetable broth When cooked, blend everything until a thick cream is obtained. Sear the guinea fowl breast in a pan over high heat and sprinkle it with a glass of Euganean Hills white wine. Then, sprinkle with the vegetable broth and flavour with rosemary, sage, and thyme. Continue cooking for 15 minutes, covering the pan to bring out all the flavours.
In a saucepan, boil 1 liter of water, the vinegar, salt, sugar, raspberries, and black peppercorns. Cook the red radicchio cut into wedges for a couple of minutes. 
Spread the asparagus cream on the plate. Cut the guinea fowl breast into even slices and pour its sauce. Curl the raspberry-flavoured radicchio and arrange it on the plate together with some fresh raspberries.