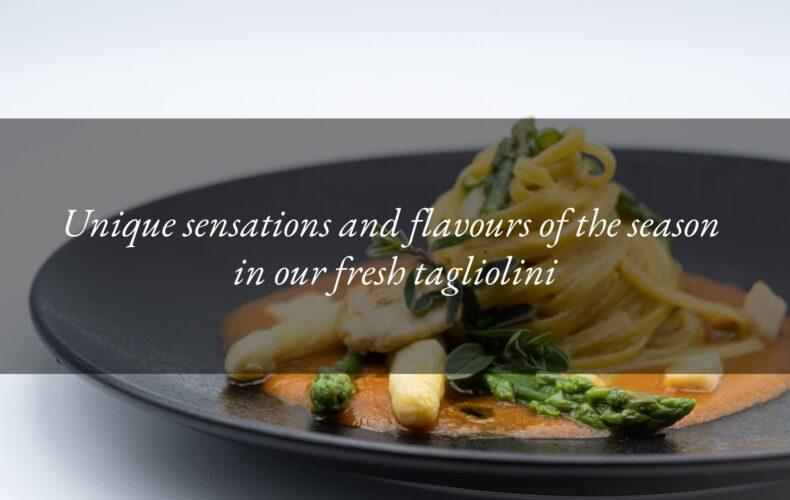 Fresh pasta tagliolini with scallops, asparagus, marjoram and scampi bisque
Posted by

6 February 2023
Spring is a season that brings new treasures, scents and flavours from the garden into the kitchen. Among them is of course asparagus, a prized vegetable whose production strongly characterises two months, April and May, and whose taste is remembered with pleasure throughout the rest of the year.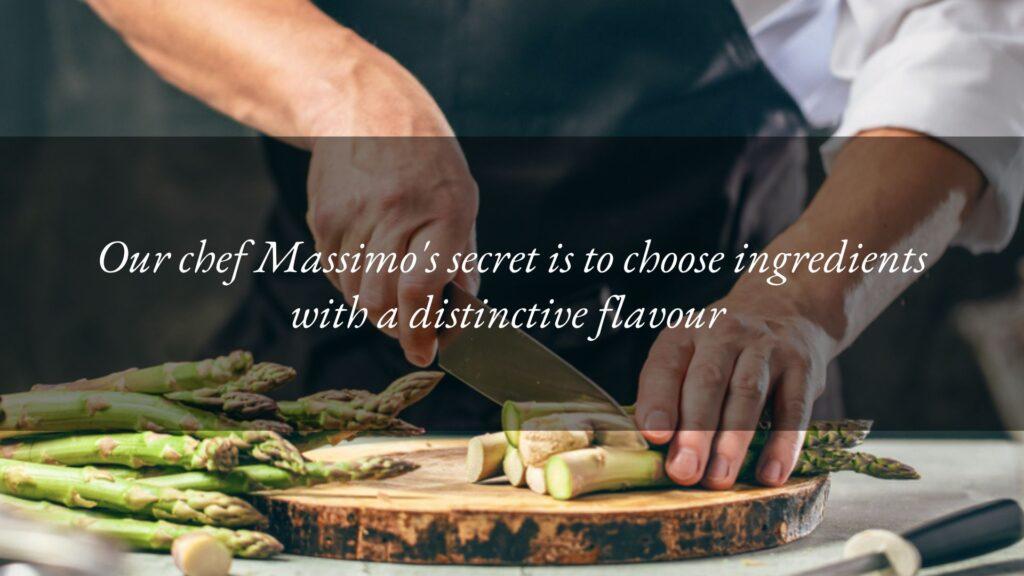 While we wait for spring to arrive and with it the asparagus season, the Hotel Tritone's chef Massimo has revealed the secrets of one of the most popular recipes for guests staying at our hotel in spring.
The dish consists of delicate ingredients that are combined with elements with distinctive flavours. This balance results in an excellent first course, which offers delicious and intense sensations on the palate.
For its preparation, the Chef recommends carefully selecting the highest-quality basic ingredients, as is customary in the kitchens of the Hotel Tritone, where the search for excellent ingredients is constant and fundamental.
Fresh pasta tagliolini with scallops, asparagus, marjoram and scampi bisque
Ingredients for 4 persons
250 g fresh pasta tagliolini
5 scallops
4 scampi
150 g green and white asparagus
2 shallots
half a glass of white wine
100 g Datterini tomatoes
half a glass of brandy
olive oil to taste
extra virgin olive oil to taste
Method
Bisque preparation
Clean the scampi from the back side and cut into pieces. In a saucepan, brown a shallot with a little olive oil, add the freshly cut langoustines and sauté them well. Add the brandy and let it evaporate. After cutting the tomatoes in half, add them to the scampi and let everything sauté, adding salt and pepper. Leave to cook for about 15 minutes, adding a glass of water. Allow the water to reduce and at the end of cooking, whisk, strain through a sieve and reduce further until creamy. 
Blanch the asparagus in salted water for 5 minutes: they should cook but remain crisp. 
Rinse the scallops and separate the corals from the white parts. Fry the shallot with a little oil in a frying pan and cook the white part for a few minutes, adding the white wine. Once cooking is complete, set the white scallops aside and, in the cooking juices, cook the corals, which must then be blended.
Cut the asparagus into round slices, leaving a few tips whole.
Cook the tagliolini and pour them into a pan with the blended scallops, whole scallops, asparagus and a few marjoram leaves.
Serve in a bowl with the langoustine bisque and the tagliolini laid on top, adding a drizzle of extra virgin olive oil. 
Serve hot.
To sample this dish and book your next stay at the Hotel Tritone, you can write to us here or call (+39) 049 8668099