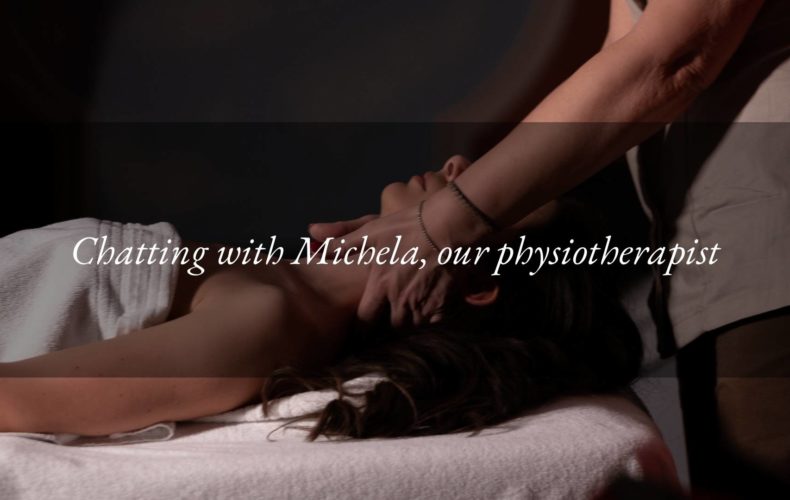 Chatting with Michela, the Hotel Tritone's physiotherapist
Posted by

12 August 2022
A passion for people's well-being and a desire for change run through Michela's story. The Hotel Tritone's physiotherapist tells us about the challenge she took on when she chose this organisation. Telling us about this decision reveals the human factor not only of her work, but also of the experiences our guests enjoy.
MICHELA, PLEASE INTRODUCE YOURSELF FOR THOSE WHO DON'T KNOW YOU ALREADY
I'm Michela F., I'm 47 years old, and I come from Romania.
TELL US MORE ABOUT YOUR STORY
I trained in Romania, where I obtained a degree in physiotherapy and a master's degree in orthopaedics and traumatology. After finishing my studies, I started working in a hospital. The turning point came when I did a three-month exchange experience to come and work here in Abano, at the Hotel Tritone. Following this experience, I commuted between Italy and Romania for three years, after which I had to choose between them. I decided to stay in Italy, where I had my degree recognised.
It wasn't an easy choice; I took the most difficult but also the most interesting path, betting on myself. This is a stimulating environment, and it gives me satisfaction to see, again and again, guests who have been coming to the Tritone since I've been here.
WHAT IS YOUR ROLE AT THE HOTEL TRITONE? AND WHAT DOES YOUR JOB INVOLVE?
My job is to provide physiotherapy. I and the other professionals coordinate so that we are always present, and then everyone works to their own schedule, with their own clients. We take refresher courses together.
HOW LONG HAVE YOU WORKED AT THE HOTEL TRITONE?
Since August 2004.
WHAT DO YOU LIKE MOST ABOUT YOUR JOB?
It's a job that chose me! I'm here for many hours every day, but I don't mind. I like to see the improvements in guests' fitness, especially when they come in walking with crutches and leave walking without them. The Hotel Tritone is atypical compared to where I worked before: guests choose to come here for treatment, and that's why I decided to stay.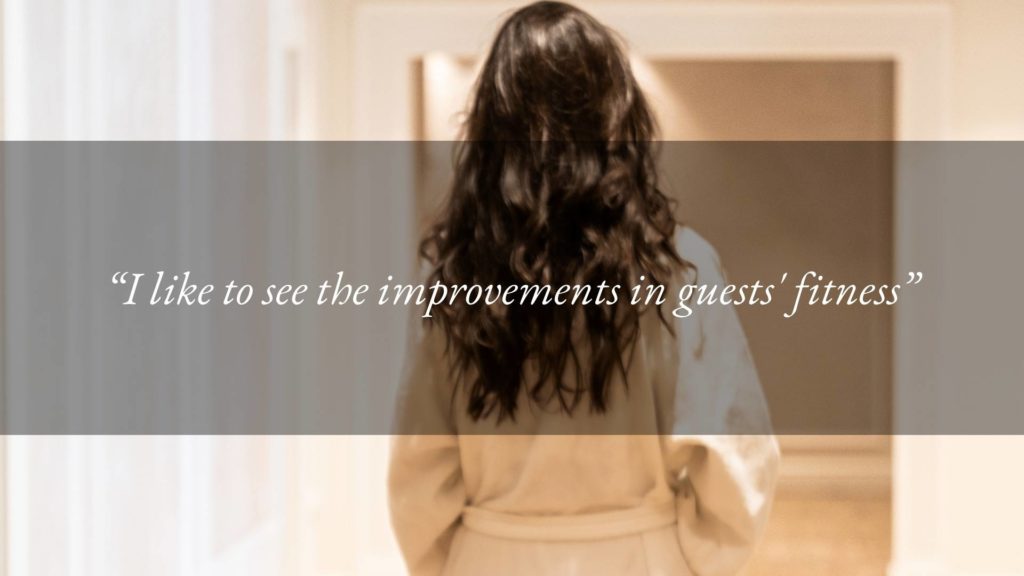 AMONG YOUR TASKS AND ACTIVITIES, WHAT ARE THE DETAILS THAT MAKE THE CUSTOMER EXPERIENCE SPECIAL?
Definitely getting them back on their feet, making them feel better. The guests who come back and thank us, confirming that they haven't had further problems. Also when they seek me out specifically, even booking a year in advance — that means a lot. For some, the experience is so special that the Tritone feels like a second home. Just think — many German guests, even though they have access to free rehabilitation in Germany after an operation, still choose to come to the Tritone!
There's a wonderful paradox in this hotel: guests in their 20s feels as good as those in their 80s! It's rare to find a place like this, where generations of the same family return year after year. You create a special relationship with these people.
IF YOU HAD TO DESCRIBE THE HOTEL TRITONE IN ONE WORD, WHAT WOULD IT BE?
It's not easy, but I'd choose "wellness", because it's not just a relaxing holiday.
WHAT DO YOU LIKE TO DO IN YOUR SPARE TIME?
I don't have much, but I like travelling, reading, and listening to music. I find cooking very relaxing.
IF YOU WERE A CUSTOMER AT THE HOTEL TRITONE FOR A DAY, WHICH SERVICE/TREATMENT WOULD YOU TRY FIRST?
I wouldn't do physiotherapy, because I'd be too demanding! I'd pamper myself with a beauty treatment, but then I'd try everything.
To regain your well-being through physiotherapy and book your next stay at the Hotel Tritone, write to us here or call us on (+39) 049 866 8099.