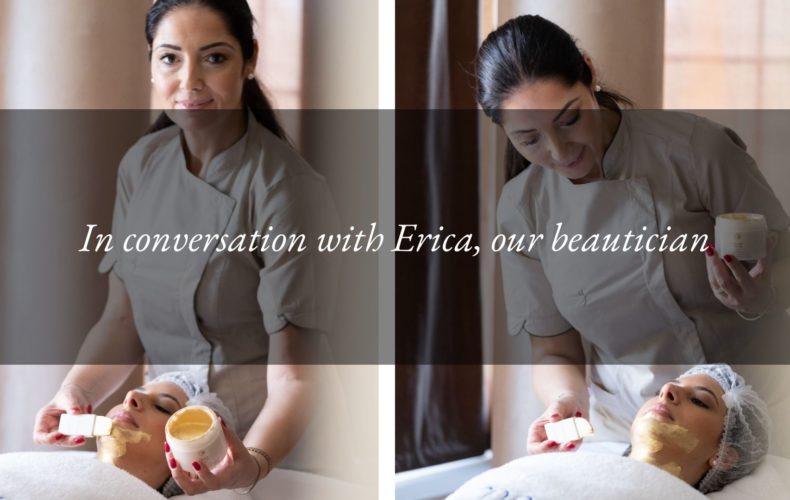 In conversation with Erica, Hotel Tritone's beautician
Posted by

28 November 2022
Erica's passion for beauty in all its forms and boundless curiosity emerge in this interview, which takes the reader into the chambers of the wellness centre of the Hotel Tritone. Learn about her story and the details of her work.
Erica, introduce yourself to those who don't know you.
I'm Erica M., I'm 50 years old and I live in Este. I'm mum to Gaia and Ludovica. Together with my colleagues, I am part of the Hotel Tritone staff responsible for beauty, first and foremost, and the well-being of the guests at the Hotel Tritone.
Can you tell us your story?
I qualified as a beautician and hairdresser at the La Parigina academy in Padua. I started my career with some seasonal experience, though never in the spa sector. Later I opened a wellness centre with a good friend of mine and together we ran it for eight years.  I arrived at the Hotel Tritone by chance, but I knew immediately that it would be the perfect fit. In the wellness centre I only had my regular clients, whereas here, in addition to guests who return periodically, I'm always meeting new people. I started working at the Hotel Tritone as a substitute, but when they asked me to stay I was happy because I like it very much. 
What is your role and what are your main tasks?
I am a beautician and often help my colleague who is a hairdresser. Sometimes I also help with massages.
The treatments I carry out are for the face and body and include the use of Farmogal products, on which my colleagues and I have attended numerous courses.
How long have you been working at the Tritone?
I've been working at the Hotel Tritone for 10 years.
What do you like most about your job?
I love taking care of the face, dealing with skin and body imperfections and offering high-quality treatments that can achieve excellent results.
For example, facial cleansing is considered a simple treatment by many guests, but I consider it fundamental and like to explain to them how important it is. This is how I illustrate its effectiveness, pointing out that it is a treatment consisting of no less than four masks, all of which moisturise the skin optimally. Clients who undergo facial cleansing are always pleasantly surprised and I appreciate their reaction which gives me satisfaction.
Of all your tasks and activities, what are the little details that make the customer experience special?
As far as I can, I always try to enrich their experience: I put them at ease, I explain the whole process, and we agree on how to proceed – I am extremely clear when performing the facial and body analysis, and I always try to give a general overview of all available treatments. The guest is free to choose, but at the same time understands what can be done and this often gives rise to new requirements. It often happens that after my explanations, customers come back asking for a particular treatment that I had explained earlier.
If you had to describe the Tritone in a word, what would it be?
Hotel Tritone is "a dream holiday", the loveliest thing I have ever seen. When I think of everything it offers and how well the clients are treated, I can only describe it that way.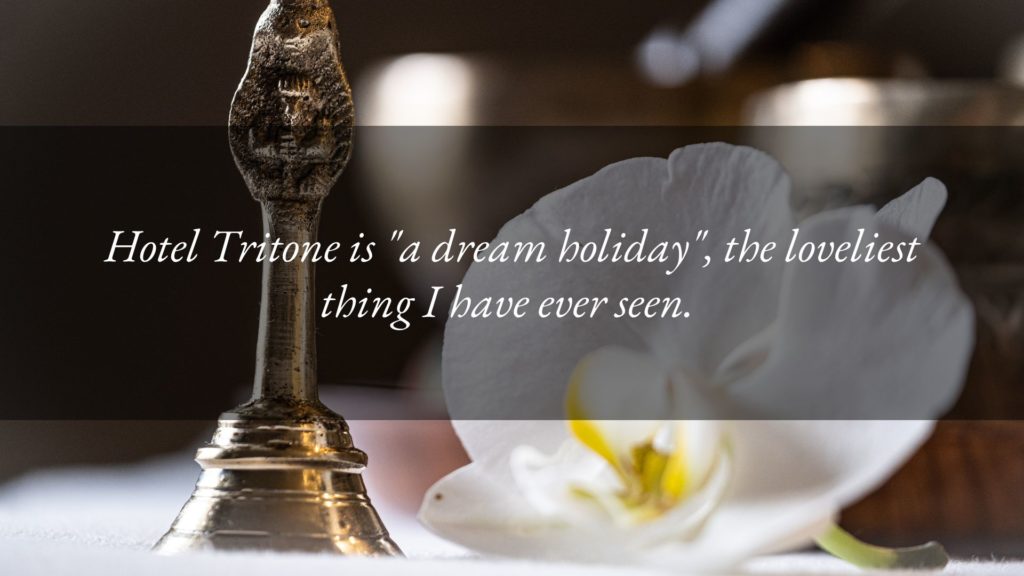 What do you like to do in your spare time?
I love to cook: I have a library full of recipe books! I also love to take long walks with my dogs.
If one day you were a client at the Tritone, which service or treatment would you like to try first?
I would like to try the Kamadeva circuit, the couples' spa. I'd do it with a friend of mine for a moment of total relaxation in its soft lighting, in the heart-shaped tub, trying the aromatic peeling, Turkish bath and oriental massage. At the end, we'd enjoy champagne and fresh fruit together on the chaise longue.
To book the Luxury Private Spa at the Hotel Tritone, you can write to us here or call (+39) 049 8668099