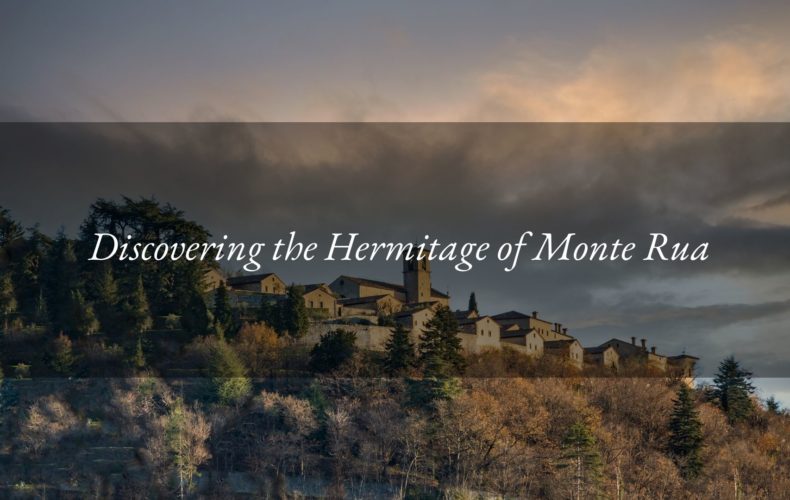 The Hermitage of Monte Rua: nature and spirituality
Posted by

7 November 2022
The Euganean Hills are rich in places, experiences and intense and particular possibilities.   In this blog, we have described many locations of the highest importance, including  Villa Vescovi, the  Catajo castle,  the  Praglia Abbey.  and the  Monastery of San Daniele.  The time has come to discover a new place, somewhere that has a mystical atmosphere  and profound silence in common with the previous sites we discussed: the  Hermitage of Monte Rua 
HISTORICAL EVENTS LINKED TO THE RELIGIOUS SITE IN THE EUGANEAN HILLS
Kissed by the sun on the summit of the mountain of the same name, the Hermitage tells a story that dates back to the  Middle Ages.  Indeed, the first  Camaldolese monks settled here around the year 1000. Later, between 1334 and 1337, the first building dedicated to the Madonna was built, and new areas were annexed in the following years for the creation of a real monastery. Between the sixteenth and nineteenth centuries, the Hermitage experienced a period of good fortune, followed by a period of decline in the aftermath of the unification of Italy. Returned to its  original splendour  in the second half of the twentieth century, today the Hermitage includes a church, three rows of houses and fifteen monastic cells with an adjoining vegetable garden, all enclosed within solid walls.
A RARE OPPORTUNITY TO EXPERIENCE THE SPIRITUALITY OF MONKS
Visiting the Hermitage of Monte Rua is only possible at certain times, when the monks are allowed to see relatives and friends. This is why we recommend that all our Guests who intend to visit it  ask our staff  for help in organizing the trip based on the availability of the religious site.
EXPERIENCE NATURE, CONTEMPLATING PANORAMAS OF ENDLESS BEAUTY
In the event that it is not possible to visit the interior of the Hermitage, Monte Rua offers evocative views of the Venetian plain and its cities. Indeed, from the parking lot near the top, there is a  path that runs along the walls of the monastery,  from which it is possible to appreciate a spectacular view and unprecedented glimpses of the Euganean Hills.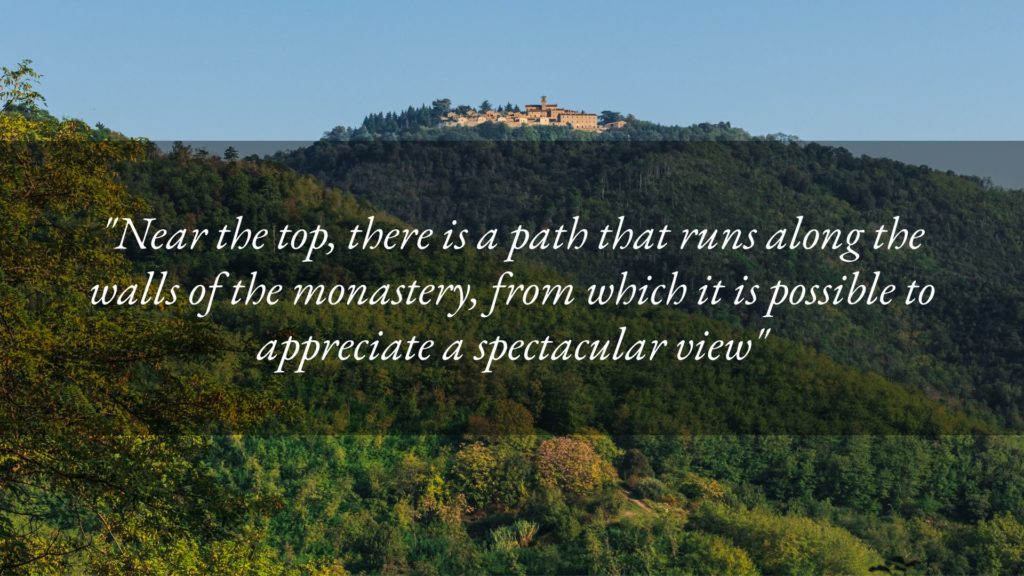 For those who prefer  to set out  for the summit of the mountain (416 m), there is a path that will take only a few hours and is immersed in nature. The route starts from  Galzignano Terme,  where you can leave your car. The route includes stretches of paved road and dirt paths that wind through woods of chestnut, beech and birch trees.
In  autumn,  going through the woods provides an opportunity to walk on a bed of crunchy leaves and marvel at the countless colourful shades of changing leaves on the trees that populate the Euganean Hills.
To book your next stay at Hotel Tritone and visit the Hermitage of Monte Rua, you can write  here  or call (+39) 049 8668099.